September is here! The kids are back in school (FINALLY) and thoughts of the Fall family portrait session enter my head. OK, truth is that most of my thoughts are about the 120+ families I will photograph in the next two months, not my own BUT I do have to do mine too!
First question is WHAT WILL WE WEAR? Actually, what will THEY wear! I was in the family portrait last year and LOVED it!Five years of photographing other families and making excuses for myself and I finally just did it! Best thing I ever did for our family. This portrait is something we will treasure forever!
If you are a mom (or dad) that is always taking the pictures and/or is waiting to lose weight (or some other excuse) to be in a family picture, DON'T wait any longer! Just do it! I did not lose weight for mine and I still love it! More importantly my kids will have it forever. Proof that mom really was there!I've heard too many stories of families who waited too long and never got that family portrait! Just do it!
OK on to the task at hand! Selecting the wardrobe! Where do we begin? Here is my thought process, maybe it will help you with yours!
1. FIRST I ask myself where will I hang a wall portrait from this session? Going to a professional photographer? You should always get at least one wall portrait! Where will you put it this year? In the past years it was my play room, living room, then it was my studio, then it was my kitchen and NOW… my powder room!! YES, the bathroom that all my friends and clients use!   I bought a Wild Sorbet Frame for it two years ago to match the decor. At the time I did not have a picture for it so I just used the best vertical shot I could find. Problem is that it is not a great picture. It is a fun snapshot but not a wall portrait! It is TIME!
2. Now that i know the room I select colors that will coordinate with the decor of the room. Of course I could always do black and white but since I am planning ahead I might as well pick colors that really match. Fortunately these are my favorite decorating colors.  Dark grey, light grey, creamy spice color and black. I also love some shades of blue but I did that two years ago.
3. I pick a store that I love where I can buy all the kids clothes (and possibly mine and my husbands if we are going to be in the picture). In this case it is J.Crew!
4. Decide who to dress first! Normally I say, dress yourself first (pick your favorite outfit) and the coordinate the rest of the family with that. In this case since it is just the kids I am picking the girls first since they care what they where! Kylie my middle child loves girly dresses so I pick hers first. Found a lovely dark grey dress! Love that it has some texture in the flower and the skirt part of the dress. Add a head band and done! Now I need my oldest daughter. She likes pretty/cool shirts and skinny pants. Found a lovely peachy cinnamon top with some sparkle, a head band (she may or may not agree to wear) and black skinny pants. Now I need some light grey so I know I need to get Derek a light grey sweater and black pants. Check it all out in the shopping cart and see that it does look nice together!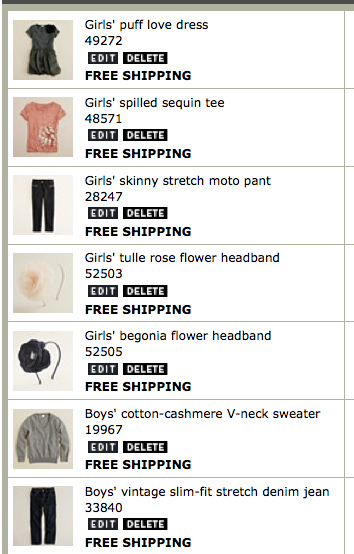 But…WAIT! Something is missing! That peachy color is only on Olivia! Let's find a similar color t-shirt to put under Derek's V-Neck grey sweater! A touch of that color peaking out on Derek is just what this picture needs! Here you go! That is better!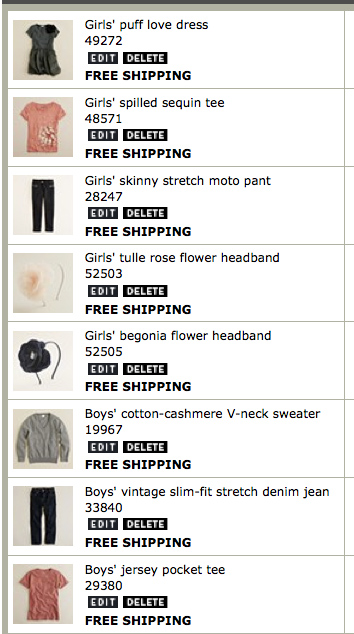 You do NOT have to buy a new wardrobe BUT since it is the beginning of the school year and time that most of us do buy new clothes for the kids, you might as well use the portrait session as part of that new wardrobe selection! I try to pick clothing the kids can also wear to school. These are not fancy outfits they will wear just once, although that is also an option!
If you do not plan on purchasing new clothes this process can also be accomplished by going into your children's wardrobes and pulling pieces with the colors you selected. Lay them all out on the bed or floor and make sure they coordinate nicely! Add some accessories for interest, possibly one top on one child with some pattern but try to avoid patterns on too many kids. It gets distracting.
DONE, now I just have to order it, plan those hair cuts (at least a week before the session) and schedule a time for the portraits! I always do it on a school day since my weekends are booked solid in the Fall. I also like it because I have the help of my au pair and my mom. Trust me, it is NOT easy being the photographer and the mom. If you are taking the pictures yourself enlist the help of a babysitter or family member to help get the kids to cooperate and to LAUGH and have fun so you can focus on the composition, lighting, posing, etc!
Can't wait for UPS to show up with this order! I hope the kids like the clothes and I hope the peach color works against the color of the bathroom wall. If not, that portrait will just have to be black and white after all!
Have you booked YOUR PORTRAIT SESSION? Whether it is with me or another photographer CALL NOW! This IS the time! Some photographers are h(like me) almost fully booked already!
And here are the outfits fresh out of the box from J.CREW.


Share this Post