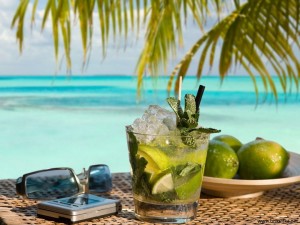 My husband and I went on a cruise before kids. My favorite part was the stop on the private beach for cruise passengers. They had all sorts of activities, food and drinks. This was 15 years ago but I still remember sitting there on the beach and seeing an islander (employee) walking down the beach toward us with a tray of fancy tropical drinks.

He was announcing repeatedly in a loud sing song voice with a Jamaican accent and a big smile on his face: "Are you ready 'RED AY' ? Somebody's got to be ready!"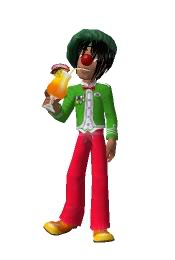 Laying on that hot beach feeling like THIS Is the vacation I was waiting for I was so tempted to get one of those ice cold delicious tropical alcoholic beverages. Problem is that it was like 10am! Could I have a drink at 10am? Did not seem right. My body said "HELL YA" but my conscious was like "Girl, it's not even noon!".
After a brief discussion, my husband encouraged me to GO FOR IT because he knew I would enjoy it and that it was just what I needed to feel completely relaxed. He was right! I let go, got that drink and enjoyed every last sip of it, all before noon.

As I introduce this new genre of BEAUTY & BOUDOIR Photography to my mom clients I know that many people will think "NOT FOR ME" but that even those that like the idea are going to be hesitant to book a session. Heck, many of them don't even want to get in the family photo because they don't think they look good enough! Most of them "just want pictures of the kids".

If they have trouble getting into a family session, how could they do a photo shoot all about them? How could they invest in hair, makeup, wardrobe, the session and the digital images JUST to make themselves feel BEAUTIFUL? How could they spend the TIME & MONEY to REMIND THEMSELVES (and their spouse) just how GORGEOUS they are!
How can they DARE to SAY "I'm WORTHY of this!". Even if they do feel worthy and think they don't look half bad, how can they LET GO of their INSECURITIES and INHIBITIONS and get in front of a CAMERA by themselves? How do they LET DOWN THEIR GUARD, NOT WORRY about what OTHERS might think and god for bid TAKE A MOMENT to CELEBRATE their OWN BEAUTY!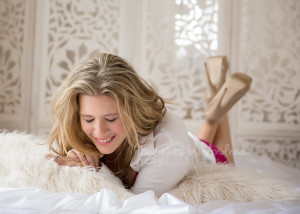 I have to admit I had to take Alison's advice a bit myself jumping into this genre of photography. I wanted to do it for years but was AFRAID of what it would do for my BRAND! As an experienced and well established family photographer (since 2006) known for family portrait, newborn, maternity, high school senior, headshots and pet photography, I was concerned that this work could possibly have a negative impact on my thriving business. I have to admit that "boudoir photography" doesn't exactly bring to mind wholesome family images but why is that NOT OK? My first temptation was to put it under a completely new brand! That just seemed like the right thing to do and something I had heard in my studies in the photography industry. I went as far as to create a new Facebook page not connected at all to my current page. The new website would be next but I stopped!
As I prepped for this first session and did a little self evaluation about WHY I WANTED TO DO THIS FOR WOMEN, I discovered that I believe this
IS IMPORTANT to the FAMILY because MOM NEEDS TO FEEL BEAUTIFUL TOO
!!
Alison Jacobson is RIGHT! Every woman (moms in particular) need to "..get to a place where they feel uninhibited joy and confidence." and I CAN HELP THEM DO THAT!
I want to help moms feel PRIDE, JOY & CONFIDENCE not JUST about their FAMILIES but about THEMSELVES!!!
I decided to
"shut the fear up" (Thank you Alison Jacobson for that inspiration!)
and be bold enough to incorporate beauty & boudoir photography it INTO my BRAND. You see
I BELIEVE that EVERYTHING I DO (including beauty & boudoir photography for moms) IS GOOD for the FAMILY
. We all know that (in most homes) Mom is the captain of the ship! Like the saying goes
"If mom ain't happy, nobody's happy!" and "Happy wife, happy life!"
. These sessions are about making mom not only
HAPPY but CONFIDENT and feeling BEAUTIFUL
and STRONG!How is that something to HIDE in a SEPARATE BRAND?
So here I am, adding Beauty & Boudoir Photography for Moms to my
MOMENTS BY ANDREA PHOTOGRAPHY
brand.   It's an extension of Moments by Andrea Photography  CELEBRATE LIFE & BEAUTY by capturing MOMENTS in their lives that give them JOY and fill them with LOVE and APPRECIATION for who they are and what they bring to this world.
This is how it all comes together under one brand for me:
Moments by Andrea Photography (Award Winning Certified Professional Photographer)
Wondering if a "Celebrate Beautiful YOU Session" is for you? Ask yourself a few questions.
ARE YOU READY to LET GO? Allow yourself to FEEL beautiful? Quiet those voices in your head and prove to YOURSELF and maybe even to your daughters, that YOU ARE WORTHY of FEELING BEAUTIFUL and It's OK to show it! Are you ready to be BRAVE and reap the benefits?


These TWO women were READY (well somewhat) and SUPER BRAVE! Actually, more BRAVE than READY! They got the call from me and Alison and they jumped in, trusting us completely! They now have beautiful images like these to remind themselves of just how beautiful they are! Nope, they don't walk around looking like this all day ladies. They are both beautiful but don't feel it in their busy working mom lives. That day they both said (in similar words) when looking at the back of my camera
"Wow! I can't believe that's me! I look so beautiful!"
and SMILED!
The best compliments came from the husbands. One of them even sent me a note saying " …
The pictures were awesome. Thank you for showing her and the world how beautiful I see her. She looked amazing and these pics will always be around to remind her!". Job done!
Read more about these sessions and discover how to FEEL like and CELEBRATE BEAUTIFUL YOU TOO!
More info here:
Interested in CONSIDERING a beauty & boudoir session?
Join my Facebook group ONLY for WOMEN interested in ONE DAY doing a session with ME and/or encouraging friends/clients to do it!
You will see images from other sessions, get info and learn about opportunities to work with me.
https://www.facebook.com/groups/590515744436846/
Hair & Makeup by Janet Montalbano: janet.montalbano@gmail.com or 845-721-0550



Share this Post